The inclement weather in Atlanta had us a little behind on our Student of the Month meetings!  Today, we are catching up and bringing you great news of not just one, but two students of the month.  Our January student of the month is Virginia Hadfield, and our February student of the month is Julia Wojtkun.  Congratulations, ladies!
Virginia Hadfield has been dancing at Atlanta Dance Central for four years!  She currently takes ballet and contemporary with Ms. Mary Ann.  Virginia has been working hard in every class, and always applies corrections.  She always has a great attitude, and is always excited about coming to class and learning new things.  We love having Virginia in class because of her positive energy and her willingness to try anything we throw her way!
This is Julia's second year at Atlanta Dance Central.  Julia works consistently hard in her classes, and takes over 6 hours of dance per week!  Julia has been working harder than ever the past few months, and has been accomplishing dance goals she has set for herself.  She always has a positive attitude, and applies corrections with enthusiasm.  We love having Julia in class because we can always count on her to be on track and working hard.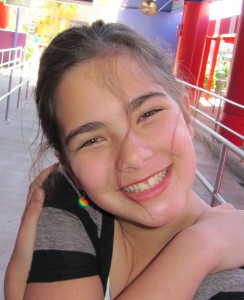 As always, we interviewed our star students to learn more about them:
How old are you?
V: 10
J: 12
When did you begin dancing?
V: When I was 7
J: I began dancing at age 3 in ballet/tap class
What is your favorite style of dance, and why?
V: Contemporary because you do a lot of floor work.
J: I have two.  Ballet because I get to look up to the older girls, and jazz because I get to express myself!
What is your favorite color?
V: Black
J: Purple
Do you have any other hobbies?
V: I like singing and archery
J: I play cello, read, bowl, and I love being a big sister!
We are extremely proud of Virginia and Julia for their hard work and their accomplishments!  Congratulations!