About Our Dance Studio in Roswell, GA
At Atlanta Dance Central, we educate to empower students to become the best version of themselves. We provide a safe space for students to belong while they learn about themselves. Our Faculty take their role of mentor seriously and truly care about each student. Our innovative curriculum allows us to fuse multiple styles of dance with values of authenticity, inclusion, and compassion in order to create balanced dancers and well-rounded people. Our professional performances showcase our team's creativity and are always age-appropriate. At ADC, students make lifelong friends and are inspired to love dance for a lifetime. We treat each dancer as an individual, create custom benchmarks for them, and provide honest feedback on the student's emotional and motor development. Our ultimate goal is to make an impact on our future community through empowering our students to become compassionate and respectful leaders. Welcome to our Community!
Our Staff
Charlotte Foster Williamson


CEO & Director of Education

Charlotte Williamson received a Bachelor of Arts degree in Dance from the University of Georgia in 2006. She founded ADC in 2009 as a way for students to receive excellent education in a non-competitive environment. She saw an opportunity to greatly impact her community through helping parents understand the benchmarks of child development. The weekend workshop for students with Down syndrome (that Charlotte began in 2007) became a weekly class at ADC. This curriculum for the students with Down syndrome, designed entirely by Charlotte, challenged the students with Down syndrome and allowed them to reach new limits that no one knew were possible. Over the years of owning ADC, Charlotte saw the communication and connection skills of all students dwindle and last year, she remodeled the programming of ADC to provide a holistic view of dance and life skills to the students of ADC. This is her way of ensuring that the next generation has strong leaders with an understanding of humanity. She is not afraid to innovate and take risks. She is bold in her leadership and values the individual contributions of her team, authenticity in leadership, and personal growth. ADC was awarded the BULLDOG 100 Award in 2016 for being one of the fastest growing businesses owned by a UGA graduate.

Charlotte meets weekly with studio owners all over the world to discuss best business practices and make ADC thrive. She shares her knowledge with professional artists and her students, in order to help them create careers out of their passions.
---

Eli Coker


Senior Dance Faculty, Operations Manager

Eli is a Roswell native. She first danced with Charlotte Foster Williamson in 2006 and started at ADC in 2009 as a part of ART Company. Eli graduated from Georgia Southern University in 2019 with a B.S. in Psychology. She studied Child Development, Recreational Therapy and Human Behavior. Eli has been a part of the ADC staff since 2014. In 2006, she began assisting with weekend workshops for the Foster-Schmidt Academy for Down Syndrome. Starting in 2019, Eli took over as director of the Physio Jazz program and the Foster-Schmidt Dance Company. She loves sharing her knowledge of human behavior and child development with the ADC community and using that knowledge to provide a well rounded education for the students.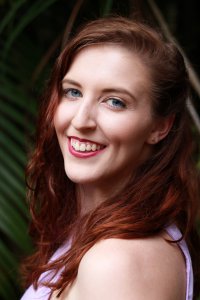 Kaitlin Davis


Marketing Director

Kaitlin Davisreceived a BFA in Dance Performance from East Carolina University. She choreographed for the NBC film Gametime: Tackling the Past in which she was also a featured dancer. Kaitlin has danced as part of the Cucalorus Film Festival, Forward Motion Dance Company, and Opera House Theater Company. She has taught students of all ages in the Wilmington and Atlanta areas. Currently, Kaitlin is a part of SIDEWAYS Contemporary Dance Company, Atlanta Dance Collective, Stella Entertainment, and Britt Fishel & Artists. She is currently the marketing director for ADC.
---
Sarah Davis
Dance Faculty, Communication Specialist
Sarah Davis is from Wilmington, North Carolina and holds a BFA in Dance Performance and Choreography from East Carolina Univeristy where she graduated Magna Cum Laude with Honors. She has trained under instructors including Tommi Galaska, Galina Panova, Dirk Lumbard, John Dixon, David Ingram and Teal Darkenwald. For four years, Sarah danced professionally during her summers at the Tony Award winning The Lost Colony in the Outer Banks of North Carolina. There, she played the role of Elizabeth Glane in 2016 and in 2017-2019 she acted as dance captain. Sarah is also performing with SIDEWAYS Contemporary Dance Company.
---

Sailor Drum


Dance Faculty

Sailor Drum grew up in Jacksonville, North Carolina where she fell in love with dance through her local competition studio. Training in different styles and learning from teachers all around the world opened her eyes to the passion and possibilities of the dance community. Sailor went on to receive her BFA in Dance Performance and Choreography with a Business Minor from East Carolina University. Now, she wakes up every day and gets to do what she loves. Her style appeals to the logic of school, the eloquence of prose, and the freedom of movement.  Dance has made her an open-minded and compassionate person who values the richness of diversity. She applies an interdisciplinary approach to her creative process; applying aspects of the subjects learned in school, personal experience, and relevant culture to choreography, lesson plans, and performances. Being able to adapt, and make long-lasting art is what makes her a valuable member of a global community. Credits include Merce Cunningham Trust, Agnes de Mille Trust, Andrea Guajardo, and more!
---

Semaj Johnson
Dance Faculty, Location Manager
Semaj Johnson began taking martial arts at a very young age, and began studying Hip-Hop, Tap, and Capoeira in elementary school. He studied Public Health Nutrition in college, and has choreographed and danced with University of Tennessee Knoxville, Capoeira Fundo da Mata, and Southern Sole. He has taught a mixture of Hip-Hop, Tap, and Capoeira for Studio Arts, Austin-East High-School, Breed Arts, The Good Guy Collective, The Appalachian Ballet Company, and The Carpet Theatre. He has contributed to performances for the HoLa Festival, and he served as one of the lead choreographers for the theatrical production of What The Water Tells Me. Semaj is currently the location manager for ADC, and believes that the arts are vehicles for self-discovery and self-expression. He loves helping students grow and discover endless possibilities.
---
Megan Long
Dance Faculty, Relationship Manager
Megan Long graduated Summa Cum Laude from Winthrop University with a BA in Dance & Psychology in 2017. She was awarded most inspiring Junior and Senior Choreographer during her undergraduate studies. After graduation, Megan found herself growing as a dancer, choreographer, and person in NYC working as an Intern and Training Fellow at Gibney. She is a company member with Sideways Contemporary Dance Company. Megan specializes in contemporary, tap, and jazz choreography and has been awarded numerous choreography awards from her work with competitive studios. She travels to competitive studios throughout the southeast to set choreography and works backstage with Applause Talent connecting with dancers throughout the US. Megan is so inspired by working with her students and finds a purpose in her journey through watching her students evolve and grow!
---
Michelle Mattox
Senior Dance Faculty
Michelle Mattox attended college at The Boston Conservatory. There she received her BFA in Ballet and Modern. She has danced with the Boston Dance Theatre, Winchester Ballet, Alabama Ballet, City Ballet of San Diego, American Contemporary Ballet, and Arova Contemporary Ballet. She has been invlolved with many theatrical productions including Oliver!, The Sound of Music, Peter Pan, A Chorus Line, Crazy for you, Annie, The Wizard of Oz, Hello Dolly, and Snoopy. She has performed on all the major television networks (ABC, CBS, NBC). She performed on Holland America Cruise Lines. Michelle has performed in such venues as The Macy's Thanksgiving Day Parade, Six Flags, DisneyWorld, Opryland, "Top Floor" (Boston Ballet), among many others.
---
Jeremy Williamson
Senior Dance Faculty
Jeremy Williamson began dancing in college with UGA's Ballroom Performance Group and performed with UGA Ballet Ensemble. After graduation, he joined Contact Dance Theatre and was a guest performer with SIDEWAYS Contemporary Dance Company in their first major concert. He joined SIDEWAYS the following season and trained in ballet, jazz, and modern dance. Jeremy played sports as a kid and as a hobby migrated to studying fitness, strength and conditioning in college. He is now a CrossFit Level 2 and CrossFit kids coach, and believes strength and conditioning were an integral part of his dance training and can provide benefit to all dancers. As an intersection of dance and fitness, Jeremy introduced the aerial program to ADC in 2014 and loves helping students overcome obstacles in the classroom to develop overall bravery and resilience.
SaveSave
SaveSave
SaveSave